Mohamed El Mehdi DRIOUICHE
From Royal Air Maroc
Mehdi joined Royal Air Maroc in 1998, he led many positions such as Flight & Ground Operations, Catering, Crew Management, Inflight Service, HR, Procurement and IT. Mr. Mohamed El Mehdi DRIOUICHE was promoted in 2014 as Organization and IT Vice President.
Mehdi provides leadership for the continuous development of an innovative, robust, and secure information technology environment throughout the airline.
Mehdi achieved many strategic IT Transformation projects inside the Airline and received Many Awards: Moroccan Government, IATA Gold Fast Travel Program, SITA, IBM Beacon "Best Data Storage System" in 2019. He is still driving the future of RAM Technology needs as key factor of growth.
Startup, Innovation & Creativity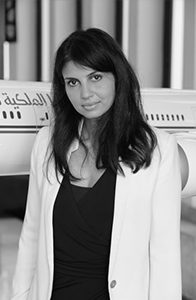 Sanaa TAZI
The future of transportation